PennEWB's Local ventures involve partnerships with various local organizations, both on-campus and off, and high schools to promote sustainable practices, and raise awareness about current topics in sustainability. Students take part in presentations, workshops and hands-on projects on topics ranging from water filtration to agriculture.
Partnership with Saul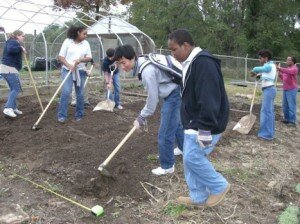 For the past few years, we have maintained apartnership with Saul Agricultural High School to teach a series on sustainable development and related appropriate technologies. Some of the curriculum topics include biogas, biodiesel, geothermal energy harvestation, future car power technologies, climate change, and water conservation.
Aside from the educational aspects, we also engage in engineering projects at the farm the school is situated. Previously we had constructed a biogas digester to convert manure into usable energy. Currently, we are working on a mid-scale irrigation project to transport large bodies of water collected in rain water barrels to a field of crops. Our current project will allow the school and the farm workers to reuse rain water to irrigate crops in a systematic and environment-friendly water, while also removing a mosquito infestation that has flourished in the presence of stagnant water.
Partnership with Girard: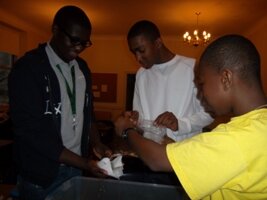 We have started a new partnership with Girard College, a local boarding school. At Girard, we work closely with the students, helping them learn about sustainability through experiments, demonstrations and other related projects. We have built solar cars and cleaned up oil spills, among many other exercises.
Despite the fact that our partnership with Girard is in its infancy, we have many projects and experiments planned for the coming year. We plan to build an irrigation system for a large vegetable garden on Girards's campus. This irrigation system would allow one person to water the entire garden and will also reduce consumption of water by directing the water to each individual plot. We are also looking to build a green roof on one of the many buildings owned by the school. This goal is admittedly far off; however, a more reasonable goal of our Girard group is to build a small green roof on a large shed on the school's grounds.
Walnut Hill Community Association
With the intent of replicating the success we have enjoyed with Saul and expand, we hope to begin a partnership with the Walnut Hill Community Association. Currently, we are working out the details to begin a smaller-scaled irrigation project with the WHCA. For more information, check out their website.
New members are always welcome, and new ideas are even more welcome. If you can provide either one of these feel free to contact me at kewa@seas.upenn.edu.
Design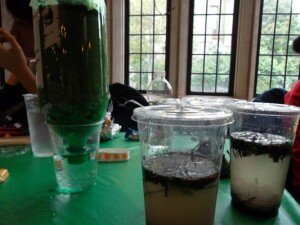 Students from the Design committee have spent the past few months constructing a slow sand water filter designed to purify clean water to make it potable. Such filters may be used in communities across the globe without access to safe drinking water since they require only basic materials and do not involve access to electricity. Slow sand filters function because a biofilm composed of bacteria develops in the top of the filter after several weeks, trapping harmful bacteria, fungi, etc. previously present in the water. The filter assembled by the Design committee was displayed on Penn's campus to raise awareness to the student body.
Over the past year, students from the Design committee have researched and evaluated methods of converting oils to biodiesel, an energy source that can be used as an alternative to traditional fueling materials. Through a relatively simple laboratory procedure, students have produced biodiesel from purchased vegetable oil and have tested the purity of the product. The next steps include creating biodiesel from waste oil obtained from local restaurants and finding productive uses of the biodiesel on Penn's campus.